Salary costs in the 20-team  Premier League for the 2017/18 season increased to £2.9B ($3.76B), an increase of £400M ($520M) over the previous season.
The ratio of wages to revenue increased from 55% to close to 60%. Sixty percent is considered to be a "best practice" benchmark for teams and in 2017/18 the Premier League was split down the middle – 10 teams were above the line while the other team fell below the 60% benchmark.
Crystal Palace, Everton, Bournemouth, Leicester City, and Southampton constituted the top five highest ratios ranching from 78% to 75%.
Spurs were an outlier with a little under 40% of the team's revenue being paid out in wages. The next four lowest were Huddersfield Town and Manchester United at 50%, and Manchester City and Newcastle United at 52%.
Chelsea was at 55%, with Arsenal and Liverpool both at 58%.
Replying to @SwissRamble

#NUFC enjoyed the 5th highest wage bill in England before Ashley bought club in 2007, but since then this has risen by just £34m (57%) from £60m to £94m, while others have increased wages by significantly more, e.g. #THFC up £104m (237%) from £44m to £148m.
As a result, #NUFC £94m only had the 14th highest wage bill in England in 2017/18, around the same level as the 3 relegated clubs (Stoke City £94m, WBA £92m and Swansea City £91m). Much lower than #EFC, #LCFC, #CPFC, #SaintsFC, #WHUFC and even #AFCB. pic.twitter.com/FYPDccIXOK

12:52 PM – Apr 23, 2019

Twitter Ads info and privacy
See Swiss Ramble's other Tweets
In absolute terms, Manchester United underwrote the largest salary bill, an estimated £296M ($385M) in 2017/18. Liverpool costs were £263M ($342M) with Manchester City at £260M ($338M). Chelsea's wages costs were £244M ($317M) and Arsenal's £223M ($290M). When it comes to value for money it is hard to beat Spurs' wage bill of £147.6M ($192M).
There is no secret to what has full fuelled the increase in Premier League wage costs of 123% over the last ten seasons since 2008/09 – TV rights. Ten seasons ago the wage bill for the twenty teams in the Premier League was £1.3B ($1.7B) with Chelsea the top payers at a cost of £167M ($217M).
In 2008/09 domestic and overseas rights fees delivered £777M ($1.01B) to the Premier League cabal. Ten seasons on and the revenue had increased to £2.8B ($3.6B) – an increase of 260%.
Essentially, an increase in TV revenue of over £2B ($2.6B) per season from 2008/09 to 2017/18 has covered off the £1.6B ($2.1B) increase in salaries and more.
If salaries had kept track with the increase in TV revenue, the wage costs of the Premier League would be around £4.7B rather than just £2.9B.
View image on Twitter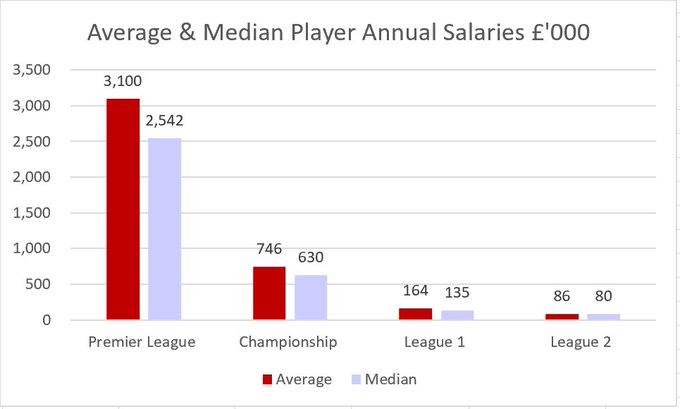 It's generally acceptable to reward employees as revenue grows. But, that doesn't seem to apply to soccer players.
A look at the comments section of an article about players' salaries and common descriptions are the likes of "obscene," "shameful," "disgraceful."
But what's really interesting is reading the comments on other articles that focus on teams' performances.
The answer most often offered by fans for poor performances is to get rid of the highly paid players and to then spend money on signing replacements.
The implied assumptions being that:
(a) the new players are going to be willing to play for less money while giving more effort, and
(b) there will be other teams willing and ready to pay good money to sign the slackers.
Conversely, players' wages are irrelevant when a team is winning.
Take Liverpool as an example. Liverpool's wage bill increased from £207M in 16/17 to £263M in 17/18, an increase of 27%. Now, try finding a Liverpool fan that thinks such a hefty increase is a problem.
The same goes for Manchester City. In 2008/09 City spent £83M ($108M) on wages. For 2017/18 the cost had increased to £260M ($338M), an increase of 213%. You will look far and wide to find a City fan who will tell you that the club is paying too much.
When you cut through the angst and hand-wringing you find that if a team is winning the overwhelming majority of fans could not give two hoots what a player pockets every week.
Premier League comparison
The numbers move each season but there is no doubt that the Premier League pays a higher average salary than the other members of the top 5 leagues in Europe.
Based on a 2017 study if Premier League's average salary is set at 100 here is how the other leagues compare:
La Liga 64
Serie A 51
Bundesliga 48
Ligue 1 36
["source=forbes"]