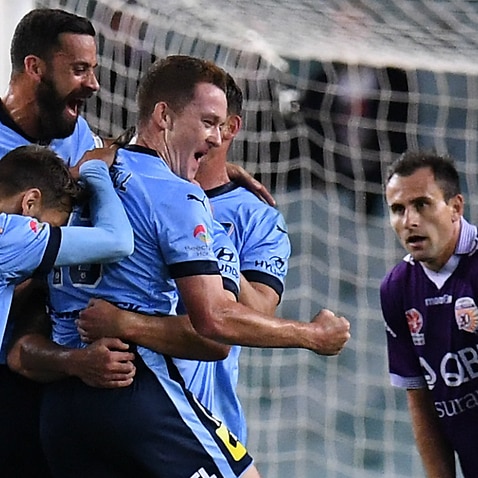 Forget Jerzy Dudek against AC Milan in 2005, Sydney FC have their own big wiggle and his name is Andrew Redmayne.
An impressive save-laden 120 minutes from the 30-year-old preceded an even greater display in the ensuing penalty shootout, with two saves enough to deliver the Sky Blues grand final gold.
Steve Corica's side could not find separation from Perth Glory for much of the constricted contest and as each second passed by, only one big moment looked likely to make the difference.
Luckily for Sydney, Redmayne had two.
The 'yellow wiggle' forced both Andy Keogh and the retiring Brendon Santalab into poor penalties, with the latter's paltry panenka gifting Reza Ghoochannejhad the winning spot-kick.
Redmayne's heroics rendered past stints a distant memory, and while all praise came his way after the full-time whistle, his humility swung it in the opposite direction.
"I'm just so happy that we could do it for our captain, our leader, Alex Brosque in his last game," Redmayne told Fox Sports.
"He's Sydney through and through and I'm so glad that we could do it for him."
With four A-League championships, Sydney FC will now turn their attention towards a record-setting fifth next season, knowing full well that should any penalties come their way, their yellow wiggle will have it covered.
Some fools neVAR learn
An almighty malfunction may have soured last season's A-League grand final, but Sunday's iteration certainly wasn't too far behind.
Yes, the technology was working this time, but the Video Assistant Referee himself? Not quite.
Sydney FC fans were frustrated and dumbfounded in equal measure come the 28th minute – and they had every right to be.
Michael Zullo's overlapping run and ensuing cross went in off the outstretched Matthew Spiranovic and would have stood had the linesman not flagged for offside.
Despite replays proving the full-back onside in the build-up, albeit by a whisker, the VAR elected to uphold the decision – one not even ex-Socceroos could keep quiet over.
"I've got no idea why we even have VAR," David Zdrilic wrote on Twitter, with Robbie Slater adding: "VAR rubbish again!"
Sunday's first-half instance was yet another reminder of the need for officials to reserve the use of their flag unless certain.
Had the linesman done so for Zullo's run, it's likely the VAR would have approved the goal without protest from either side.
But instead, we find ourselves spinning a record long overplayed in this country and, had the Sky Blues failed in the shootout, it would have sounded a whole lot worse.
'It all started against Chelsea'
Tony Popovic went out of his way to uphold an unperturbed outlook on Sunday's grand final defeat, but there's no doubt he's hurting.
The first-year Glory coach witnessed his fourth grand final defeat in agonising fashion at Optus Stadium, with Sydney FC prevailing 4-1 in a penalty shootout.
Having lost three grand finals during his time in charge of the Western Sydney Wanderers, Perth's incredible campaign looked destined to finish with Popovic hoisting the championship above his head in relief.
Instead, the 45-year-old stood emotionless as the Sky Blues celebrated their fourth triumph, insisting his disappointment was purely for his players.
"How do I feel? Disappointed, dejected – not for myself, let's make that clear," Popovic said.
"It's really for what I've seen all year; the way I've seen them play.
"It all started back here against Chelsea, where they tried to impose a style after a couple of weeks of training and through the year they've taken it to another level.
"They don't deserve to be disappointed in that room. I'm down because of that."
Popovic's Perth project, birthed against Maurizio Sarri's Premier League powerhouse, came full circle in the end – only this time, the packed out crowd at Optus Stadium came for them.
It's now on 'Popa' to pick his players up and make amends next season, but with an eleventh team set to enter the fray, his road to redemption just got harder.
Empathy and ecstasy
Sydney FC fans will savour their grand final success out west for a long time yet, but deep down – they know exactly how the Glory are feeling.
After blowing past all opposition by 14 points last season, a last-gasp 3-2 semi-final defeat to eventual champions Melbourne Victory left all affiliated feeling a sense of injustice at Allianz Stadium.
It wasn't supposed to end that way, not for the Premiers, who, in almost any other league, would have been remembered solely for their regular season.
Instead, a fourth-placed Victory outfit stole the show and rewrote the script, rendering 27 rounds redundant and a three-week tournament for history to remember.
Fast-forward one season and Australian football's uneasy narrative has resurfaced, but only this time, it's Perth who'll feel the full effect of their failure at the last hurdle.
Make no mistake, the Sky Blues deserved their success at Optus Stadium, but as football purists, even their players took the time to empathise with the Premiers.
"No words that I can say will do justice to what you guys are feeling; we were on the receiving end of it last year," Sydney captain Alex Brosque said in his victory speech.
"You guys had an incredible season – (were the) absolute benchmark and you led the way the whole competition.
"To lose on penalties is difficult but, if it is any consolation, you were the best team all year so congratulations."
Perth's pain brings Steve Corica's Sydney full circle in the end, who now experience grand final success outside first place for the first time since the A-League's inaugural season – when Corica himself scored the winner.
People still care
Stale, boring, recycled – the A-League has come under increasing scrutiny in recent seasons, but if the grand final was anything to go by, it's quite clear people still care.
More than 56,000 supporters flocked Optus Stadium for Sunday's decider, as Sydney FC stood firm for a surprise penalty shootout victory over Perth Glory.
Such a sight would have served as encouraging signs for Football Federation Australia, not least for rights holders Foxtel, who will reportedly pull the plug in 2023.
With dwindling attendances dampening the action as of late, Perth's record crowd was a pleasant reminder of the game's potential in this country.
The fans are there, ready and waiting for a diverse and entertaining product, and while expansion will go a long way to delivering as much, the A-League now need both Western United and Macarthur FC to hit the ground running.
["source=theworldgame"]