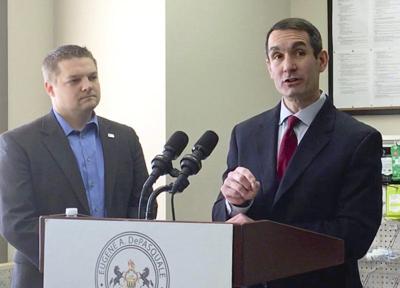 Rebates are supposed to reduce the final cost a consumer pays for a product.
But when it comes to prescription drugs, Auditor General Eugene DePasquale believes that the opposite is true.
"Rebates can, and do, artificially inflate the price of prescription drugs by up to 30 percent," DePasquale said yesterday in a press conference at the Hometown Pharmacy in New Castle. When a rebate is offered, he noted, drug manufacturers set a higher base price in order to recover the cost of the discount.
DePasquale was in town to release a special report on pharmaceutical rebates as a followup to his December 2018 declaration that called for increased transparency from pharmaceutical benefit managers, whose increasing control over who may access prescription medications he says is contributing to the rise of drug costs.
Originally formed to serve as third-party claims administrators, pharmaceutical benefits managers — or PBMs — have grown to assume such new duties as developing lists that restrict which medications are covered and deciding how much money pharmacies are reimbursed for those medications, DePasquale said in December. Yesterday, he added that PBMs received $1 billion from the state in 2012, but that number has since ballooned to around $3 billion.
"Part of the problem is that instead of getting a flat fee per prescription, PBMs get a percentage of the total cost of the drug," DePasquale said.  "The more expensive the medication, the more profit the PBM gets to keep. No wonder they aren't exactly rushing to add lower-cost drugs to their approved lists."
DePasquale stopped short of calling for the end of these rebates, saying that in some ways, the rebates work as designed. He cited the 2017 numbers for Medicaid rebates, with the state getting back over $2 billion of the $3.5 billion spent on outpatient Medicaid prescriptions.
The auditor general instead suggested that:
•The General Assembly mandate the PBMs receive a flat fee for each prescription drug claim, rather than a percentage of the drug cost
•Congress mandate that 100 percent of all rebates go back to the third-party payer, and that insurers pass that savings along to patients
•Congress should consider revising the Social Security Act after determining whether rebate percentages for all medications should be altered or increased, noting that the last increase went into effect 10 years ago.
Bernstine spoke about his role on the House Health Committee, and how it has been working with DePasquale.
"The auditor general has been exceptional, not just on
this issue, but on issues in general that deal with transparency," Bernstine said. "Today isn't about a big, bad company trying to do things. It's a system. It's a failure of Harrisburg to act to solve this problem. It's not a complex problem. It's not a partisan problem. It's a problem that is able to be fixed."
The House, Bernstine said, recently passed and sent to the Senate two bills that would allow pharmacies to freely discuss the prices of medications with patients and which would increase transparency on how rebates work. The Senate has yet to act on either bill, Bernstine said, urging senators to do so.
Later in the day, The Pharmaceutical Care Management Association Later in the day, The Pharmaceutical Care Management Association issued a statement in response to DePasquale's report, saying "The report is factually wrong on the issue of prescription drug rebates negotiated by PBMs. Negotiating rebates from drug manufacturers is one important way PBMs control prescription drug costs. While manufacturers alone set drug prices, once those prices are set, PBMs leverage marketplace competition to negotiate rebates with manufacturers to reduce prescription drug costs for consumers. These savings are used to lower enrollee premiums and to keep down the cost that consumers pay at the pharmacy counter."
["source=ncnewsonline"]